Experience the New Show | Tickets 40% OFF Adults/20% OFF Kids https://www.newjerseykidsguide.com/coupon.php?bid=12717&dealid=2698

We have wanted to visit Medieval Times in Lyndhurst, New Jersey for years, so we were excited when we were offered tickets to attend and review the tournament! We could see the castle from the road!
About Medieval Times:
Experience North America's most popular dinner attraction. See our electrifying show featuring heroic knights on magnificent horses displaying the astounding athletic feats and thrilling swordplay that have become hallmarks of this unique entertainment experience. Enjoy a "hands-on" feast as the dynamic performance unfolds before you. A sweeping musical score and brilliant lights provide a fabulous backdrop for this spellbinding experience that blurs the boundary between fairy tale and spectacle! For the first time in Medieval Times' 35-year history, a Queen has taken the throne. Her Majesty Dona Maria Isabella presides over a tournament of knights who gather in celebration to test their skill against one another in a series of games, jousting, and combat.
Seating is first come first serve so you will want to arrive to the castle at least 75 minutes before the show. We had arrived even earlier and there was already a line outside the castle. Parking is free. In addition to general admission seating they also offer a variety of VIP and royalty packages. (Visit them online for more info!) Once you enter you wait on another line and that is where you will be assigned your table seating. You will also be given a crown and told which knight is your to cheer on. Then once in the castle you are free to enjoy the shops, drinks, and even a museum of torture devices to view.
Yes, the weapons are real! They also have many available for purchase as well as novelty swords for the little ones. Before the show you can purchase drinks both non-alcoholic and alcohol drinks in souvenir glasses or plastic cups. There are photo opportunities offered with photographers onsite and then you can pay and pick up your printed photos if you wish.
All seats are facing the arena and once seated the food and drinks begin! The meal is the same for everyone, but they also offer allergy friendly options and a vegetarian feast! My son had the vegetarian feast and he enjoyed it! We dined on tomato bisque soup, garlic bread, roasted chicken, corn on the cob, and roasted potato. NO SILVERWARE! It was fun! (My son had the vegetarian meal which is the same , but no chicken, the substitution is a bean and rice stew. He was given a soup!) It was all delicious! Our server did however, not offer us coffee or tea with our dessert. He did apologize and all was good.
While you are enjoying your meal the story of the knights plays out right before your eyes. The queen is running this show and the fun never ends. You get to experience a live horse show, the royal falcon flying over your heads- all live, and of course the joust!
Our knight was the red knight. I even caught a flower he tossed into the crowd! I'm still blushing over it. My family and I had an amazing time. I could picture myself watching knights doing battle back in the day and I could understand why we find it fascinating. I later found out that I have friends that make a visit to castle at least once a year. That's how much they enjoy it. A truly wonderful experience for one to enjoy.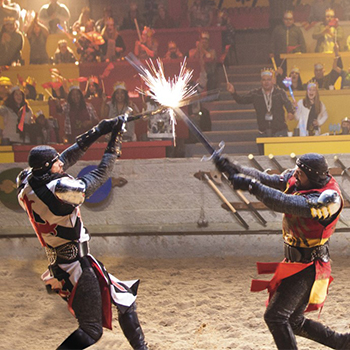 Discount Code:
Medieval Times is the perfect place for any occasion: family fun night, birthdays, anniversaries, graduations, date night, and more! Experience the New Show | Tickets 40% OFF Adults/20% OFF Kids Go to https://bit.ly/2RGt0f5 and enter PROMO code RF4020 at checkout.
Disclosure: We were given free tickets in exchange for a review. All thoughts belong to my family and myself and have not been influenced. We loved it!