Experience the New Show with a special code: Tickets 40% OFF Adults/20% OFF Kids. Go to https://bit.ly/2RGt0f5 and enter PROMO code RF4020 at checkout.
My family was given tickets to Medieval Times, however, all opinions are my own
My family and I were so excited that we were able to go and experience Medieval Times in Atlanta, GA. My husband and I had been 20 years ago with my family. It was my brother's favorite dinner show and they were all jealous when they learned we got to go.
If you have never been to Medieval Times, or any dinner show, you are in for a treat. The whole dinner experience lasts about 2 hours. However, you can also experience fun before hand with side shows in the enchanting lobby before entering the arena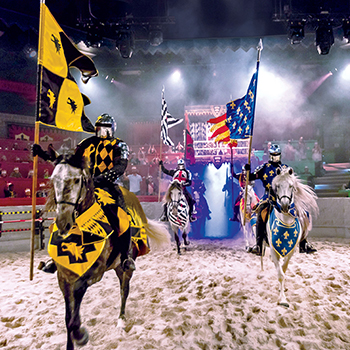 As you enter your group is giving crowns that coordinate with the color of the Knight you will be cheering for. You are then seated in your section that has a wonderful server to take care of you and bring your food and drinks. When you leave you will feel like you have eaten a royal feast. It starts with a soup course and then continues with a delicious garlic toast that my kids loved. Then came the serving of the main course. Each guest receives a cob of corn slathered in butter, a delicious and well seasoned potato and a tender and flavorful, roasted half of a chicken. Just when you think you couldn't eat enough, a huge slice of buttery pound cake appears on your plate.
A word of warning: there are no utensils. Everyone gets to enjoy eating with their hands! There are plenty of napkins and they offer a warm, moist towel at the end. Eating a meal with your hands is unusual, but also lots of fun. A whole new dining experience.
As the meal progresses so does the entertainment. Our favorite was the jousting and sword fighting. Boy, let me tell you Medieval Times knows how to put on a show. Each of the 6 sections has a Knight to cheer for in the competitions. In our family we discourage any kind of booing another team, EXCEPT for at Medieval Times. This is the time to boo your opponents and cheer your Knight in shining armor on to victory.
The jousting that sent splinters flying and sword fights with sparks was enthralling to my 13 year old son. Unfortunately our Blue Knight was not successful in gaining the victor's crown, but we sure had a blast cheering him on.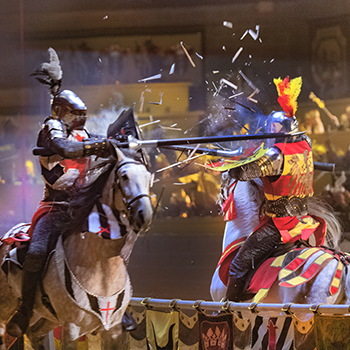 The best thing about family experiences like these is the memories that are created. My kids are still talking about it two weeks later. Riding in the car the other day my kids made up their own trivia game asking each other questions. Many of these questions came from our trip to Medieval Times. My kids are teenagers and I love when they can have experiences like this that they can talk about and remember with each other.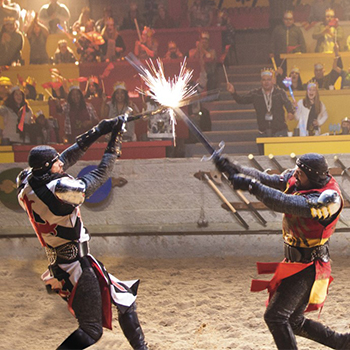 If you would like your family to experience Medieval Times together, there is no better time. They have recently updated the show and for the first time in Medieval Times' 35-year history, a Queen has taken the throne. Her Majesty Dona Maria Isabella presides over a tournament of knights who gather in celebration to test their skill against one another in a series of games, jousting, and combat.
Experience the New Show with a special code: Tickets 40% OFF Adults/20% OFF Kids. Go to https://bit.ly/2RGt0f5 and enter PROMO code RF4020 at checkout.
Let me know if you have been to Medieval Times and what you love about it.