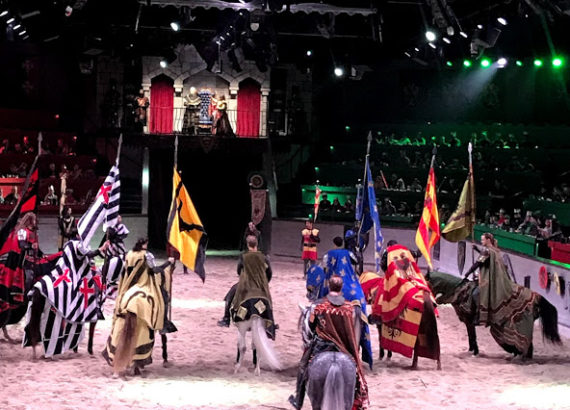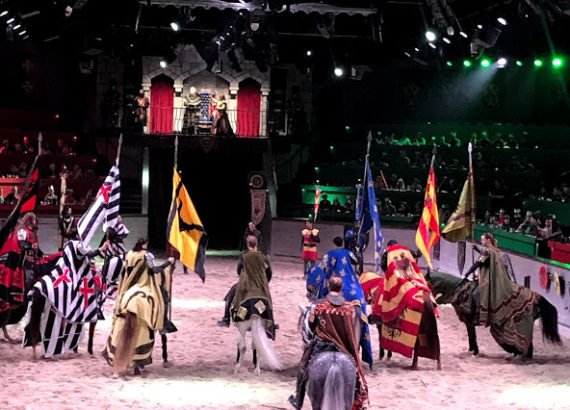 If you are looking for a great family fun activity for the whole family (especially while it is still cold outside) we highly recommend visiting Medieval Times. Our 4 year old and his friend and our 1 year old had a blast watching the action as did my husband and I.
I highly recommend allowing your kiddos to dress up in costumes and bringing swords to join in on the fun from your seat (some adults were even dressed up). Also, be prepared to eat all the food with your hands which I was not fully prepared for (soup, chicken, corn, garlic bread, and potatoes). The food tastes pretty good but no utensils are available so if bringing little ones you may want to bring wipes.
The knights skills and horse show parts of the evening were very impressive. Our boys favorite part was the jousting at the end of the tournament. Overall the jousting, horse performances and fighting sequences were well done as were the costumes and the facility. Be sure to remember that gratuity is expected after dinner and not included in the ticket price. Seemed like the entire thing start to finish was about 2 hours. Overall we had a great time. Here are some more pictures of our time at the show.
I have a COUPON CODE AVAILABLE FOR YOU so you can experience the New Show
Tickets 40% OFF Adults/20% OFF Kids
For the first time in Medieval Times' 35-year history, a Queen has taken the throne. Her Majesty Dona Maria Isabella presides over a tournament of knights who gather in celebration to test their skill against one another in a series of games, jousting, and combat.
The new story brings a series of changes to the show including new costumes, custom-designed and handmade armor, fight scenes, and musical score composed by Dr. Daniel May, who directed and recorded the composition in Kiev with the National Symphony Orchestra of Ukraine. Be among the first to experience the debut of our new show.
Go to https://bit.ly/2RGt0f5 and enter PROMO code RF4020 at checkout.